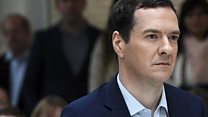 Video
Osborne dismisses Tory revolt threat
George Osborne has brushed aside warnings from Tory MPs that they would block plans for a Brexit Budget.
The chancellor's emergency Budget has been met with derision by some in his party, with 57 MPs saying his position would be "untenable" if he cut the NHS or schools.
Mr Osborne told Today programme presenter Mishal Husain that Conservatives understood action would need to be taken in the face of "huge instability" in the economy following Brexit.