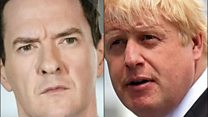 Video
EU Referendum: Does UK's membership help the Northern Powerhouse?
Two of the main figures in the EU Referendum debate have been speaking to BBC North West Tonight about whether the UK's membership of the European Union is good for the so-called Northern Powerhouse.
For the Remain camp, Chancellor George Osborne said people's job prospects in the north of England would be damaged by Brexit.
But former London Mayor Boris Johnson, who is campaigning for the UK to leave the EU, said many businesses in the region were "longing" for change.