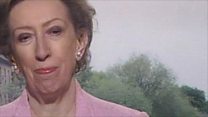 Video
Derby South MP Margaret Beckett doubts UK will remain together
Labour MP Margaret Beckett appeared to hold back tears as she doubted whether the UK would remain together, following the EU Referendum leave result.
The MP for Derby South, a former cabinet minister, said she would be "very, very relieved but really, very surprised" if the country remained united in five or 10 years' time.
She also said she was concerned for the future of major employers in Derbyshire, Toyota and Rolls Royce.
Roll-Royce said it remained committed to the UK.
Toyota said it would be closely monitoring the impact on its UK business operations.