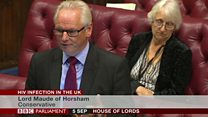 Video
Conservative peer Lord Maude remembers his brother's death from Aids
Conservative peer Lord Maude remembered his brother's death from Aids, as he took part in a debate in the House of Lords on HIV last night.
The peer told the House that his brother had contracted HIV "at a time when the whole treatment of HIV and Aids was at an early stage".
He said: "I often reflect, as I think of him, that had he contracted HIV even five years later he might very well still be with us today."
Conservative Lord Black of Brentwood called the debate, which was on moving toward the elimination of HIV infection in the United Kingdom.
Lord Black said that although the diagnosis had gone from being "a death sentence to a chronic manageable condition" the situation in the UK is "deteriorating and we need tough and determined action".
You can read the whole debate here.