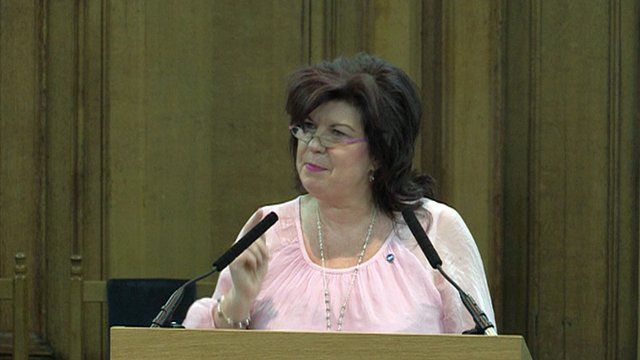 Video
Margo MacDonald's friend Elaine C Smith pays tribute
Actress Elaine C Smith has paid tribute to the late Margo MacDonald who died earlier this month.
Speaking at service to celebrate the former MSP and MP's life, she said: "If Margo MacDonald-Sillars - daughter, wife, mother, mother-in-law, auntie, sister, grandmother, pal, politician and all-round superstar's job on this planet was to come here to love and be beloved in return, then she did her job and she did it bloody well."
Ms MacDonald's husband Jim Sillars, friend Alex Neil MSP and son-in-law Craig Reid, of The Proclaimers, also spoke warmly of her.
More than 1,000 people had gathered at the Assembly Hall on the Mound in Edinburgh for the service.
Go to next video: Proclaimer recalls mother-in-law Margo