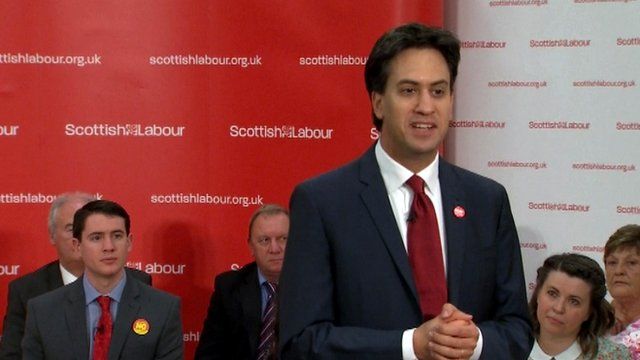 Video
Scottish independence: Miliband's 'head, heart and soul' plea to voters
Ed Miliband says he believes "head, heart and soul" that Scotland and the United Kingdom are better together.
Speaking in Cumbernauld, North Lanarkshire, the Labour leader said: "I want to make the case to you from the head, which is that we are stronger staying together because we can better create a more equal, a more just, society.
"I want to make the case to you from the heart, because of the ties that bind us together and which would be broken apart by separatism.
"And I want to make the case to you from the soul, because it was in halls like this that our movement was formed on the basis of solidarity - solidarity that has built, not just our movement's greatest moments, but our country's greatest institutions, like our national health service."
The leaders of the three main political parties are in Scotland making a last-minute attempt to try to persuade voters to keep Scotland in the UK.
David Cameron, Ed Miliband, and Nick Clegg are all missing Prime Ministers Questions to campaign for a No vote.
First Minister Alex Salmond said: "What we're seeing today on the other side is team Westminster jetting up to Scotland for the day because they are panicking in the campaign."
Go to next video: Salmond: 'Team Westminster are panicking'