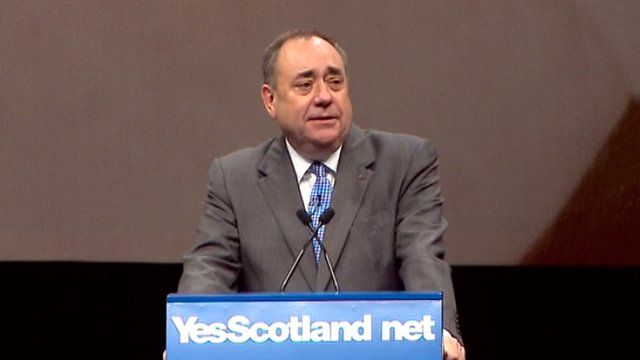 Video
Scottish independence: Salmond calls for inquiry into Treasury 'leak'
Alex Salmond has accused the Treasury of leaking the details to the markets in breach of financial regulations.
The first minister addressed an audience of journalists from around the world and expressed his deep dissatisfaction with reports about banks plans should there be a "Yes" vote in the referendum on Scottish independence.
Mr Salmond told the BBC's political editor Nick Robinson: "The briefing of market sensitive information is as serious a matter as you possibly can get."
Referring to previous reports of heckling of both campaign sides, Mr Salmond said: "This is the first opportunity the BBC have had to heckle at a meeting".
The Clydesdale Bank, The Royal Bank of Scotland, and Lloyds, which includes the Bank of Scotland have all confirmed their contingency plans if Scotland votes in favour of independence.