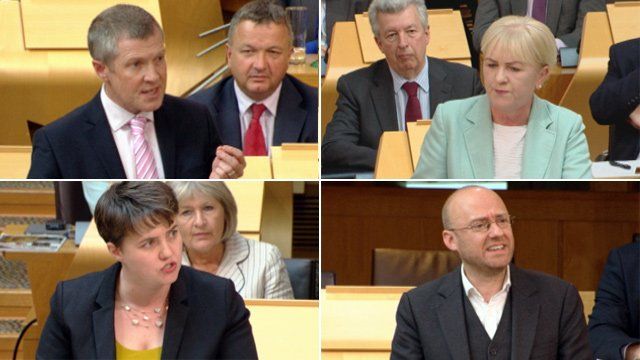 Video
Party leaders debate Scottish referendum result
MSPs have been debating the outcome of the independence referendum in the Scottish Parliament.
First Minister Alex Salmond hailed it as the greatest democratic experience in Scotland's history and called for all 16 and 17 year olds to be enfranchised for all elections.
Scottish Labour leader Johann Lamont MSP said: "I give my commitment that we will bring powers over taxation, over welfare and we will ally them with the powers already here to create jobs, to create enterprise, to give people skills."
Ruth Davidson, leader of the Scottish Conservatives, told MSPs: "We need to get back to the jobs that we were elected to do, making this devolved Parliament work for the people of Scotland."
Willie Rennie, leader of the Scottish Liberal Democrats, backed Mr Salmond on young voters saying: "I agree with the First Minister when he said that all 16 and 17 year olds should get the vote. They've carried themselves extremely well in this referendum. They have given opportunities for 16 and 17 year olds right across the UK."
Patrick Harvie, co-convener of the Scottish Greens, highlighted concern that the devolution of more powers could be: "the transfer of a responsibility to implement somebody else's economic policy. At the moment that means making Westminster's cuts on their behalf."
Lord Smith of Kelvin had earlier been meeting representatives of all five parties as he seeks to find agreement on further powers for the Scottish Parliament.
Go to next video: 'Scotland will emerge as the winner'