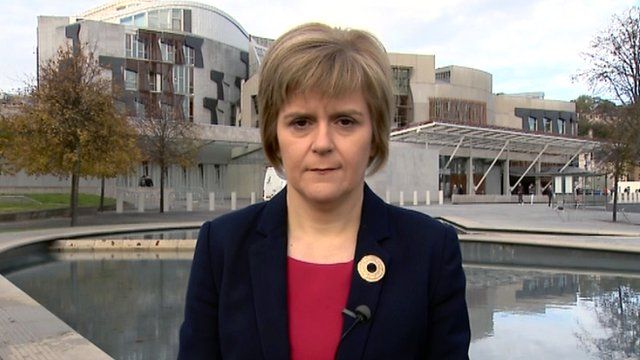 Video
Nicola Sturgeon: 'Enormous privilege' to lead SNP
Nicola Sturgeon is to become the new leader of the SNP, and Scotland's first female first minister.
The current deputy first minister was the only candidate to be nominated following Alex Salmond's announcement of his intention to step down after defeat in last month's independence referendum.
Ms Sturgeon told the BBC she would have "relished" a leadership contest.
She added: "The fact the SNP, on reflection, has decided I'm the best person to succeed Alex Salmond is an enormous privilege and I'm delighted to be taking on that task.
"I've got big boots to fill. Alex Salmond is a hard act to follow but I'm determined to lead a strong competent Scottish government focussed on things that matter to people across our country."
Ms Sturgeon will be confirmed as leader at the SNP conference in November. She will then be confirmed as first minister by the Scottish Parliament.
Go to next video: Sturgeon to be new SNP leader