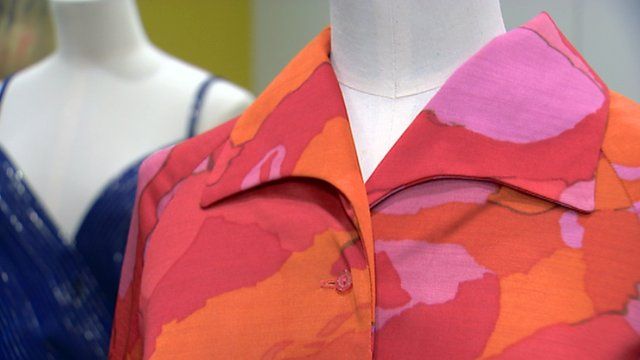 Video
Fashion collection that tells a tale behind dementia
BBC Scotland's arts correspondent Pauline McLean tells how one woman's fashion collection has found its way into the National Museum of Scotland.
Margaret Coltman was an air stewardess from Renfrewshire, who, when she wasn't travelling the world, was shopping.
Her particular passion was for designer dresses and over several decades she amassed a collection which would thrill any fashion historian.
From a baby pink Frank Usher evening dress to a pair of Kurt Geiger shoes she admired on Hilary Clinton, and tracked down for herself, Margaret had a passion for fashion which was not dimmed by age.
One day, Margaret went shopping in Paisley and couldn't remember how to get home. She was diagnosed with dementia.
Still, fashion remained important. When she moved in with her son, her only request was a large wardrobe for her "naughty clothes". Her family not only agreed but began to use her favourite dresses as a way to unlock her memories.
Like many fashion fans, she recalled events through the clothes she wore.
A psychedelic maxi dress by Bernat Klein, along with a whiff of her favourite perfume recalled the party at the Southern General Hospital where she worked as a nurse in later years. It also brought back memories of a glamorous cruise a few years later. Her family used photos to match dresses to events and help Margaret remember.
Margaret, who died two years ago at the age of 82, would never have imagined her guilty shopping secrets would one day be on show at the National Museum of Scotland but that's where they will be seen this week as part of a lecture given by retired museum curator Dr Chris Lee.
Margaret's Wardrobe, he argues, show a vibrant, colourful side to old age, and a positive approach to dealing with dementia. With more and more of us living longer, it's an issue which affects us all, and those we love.
Margaret's Wardrobe is also a lovely and lively note on which to end the Luminate festival, the month-long celebration of older people and the arts.
Those who knew her say Margaret would have been both amused and thrilled by the notion of her "naughty dresses" once more gathering a crowd.
Margaret's Wardrobe, a lecture by Dr Chris Lee, opens at the National Museum of Scotland at 14:00 on Friday.