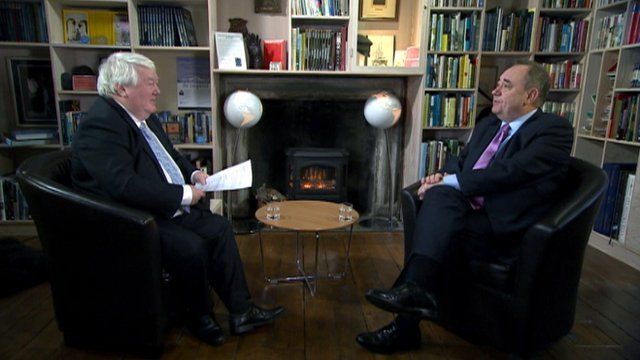 Video
Alex Salmond not ruling out SNP joining Westminster coalition
The outgoing Scottish first minister has said he is not ruling out the SNP joining a coalition at Westminster in the event of a hung parliament after next year's general election.
Alex Salmond was speaking during an interview with BBC Scotland's political editor Brian Taylor at the SNP conference in Perth.
Referring to the balance of power in Westminster, Mr Salmond was asked: "If the SNP is the third largest party, would you join in coalition with any of the other two parties? If you did how would this change the dynamics at Westminster? Would it work?"
Mr Salmond ruled out a coalition with the Conservative party before adding: "There are other options of course and it would be foolish to rule any of these others out because the main requirement of being, as the questioner suggests the third largest party, will be to advance the Scottish cause.
"In particular to hold Westminster's feet to the fire in terms of delivering the vow, the pledges that were made to Scotland that proved so decisive in the final days of the referendum campaign."
You can follow our coverage of the conference on our Scottish politics index.
Go to next video: Salmond tells Sturgeon 'make history'