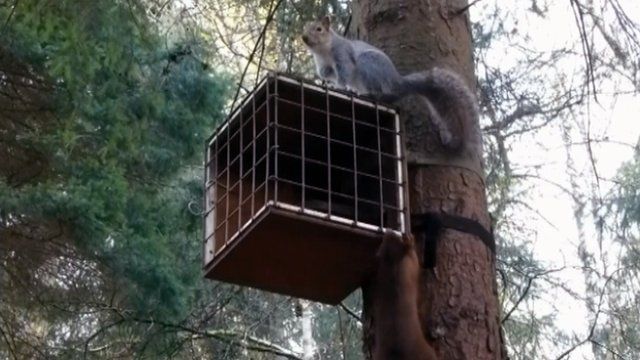 Video
Red and grey squirrels feud over feeding station
Feeders which allow red squirrels to get a snack but exclude invasive greys have been set up in a Tayside forest.
The feeder boxes set up by a local group at Backmuir Wood have openings which are too small for invasive grey squirrels to fit through, but which allow access to sleeker native reds.
Backmuir Wood, near Dundee, is looked after by the Woodland Trust Scotland.
Efforts are being made to prevent grey squirrels spreading north of the central belt.
Only 120,000 red squirrels are left in Scotland, with the animals under threat from habitat loss and competition from larger, stronger North American grey squirrels.
Footage: Craig Harris
Go to next video: Dog learns squirrel identification trick