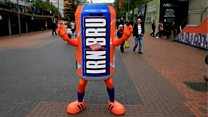 Video
A plea to keep the original Irn Bru
The makers of Irn Bru have announced plans to make more of their drink products low sugar or sugar-free, in light of plans by the Westminster government to impose a sugar tax on soft drinks.
AG Barr is not saying whether the classic Irn Bru recipe will be changed.
Scotland Editor of the Spectator magazine Alex Massie makes a plea to keep the original.
(Image: Performer wearing a giant Irn-Bru can mascot outfit. Credit: Press Association)