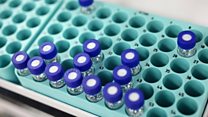 Video
Former sprinter Drew McMaster 'took steroids to run faster'
Drew McMaster has told BBC Radio Scotland that he took steroids when competing in the 1980s in order to run faster.
The former Scottish international sprinter also said six other unnamed athletes and sportsmen and women were doing the same thing but not owning up.
He says temptation is always there and he claims that little has changed since his day: "Nothing has changed except for the money".