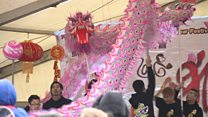 Video
Row over Scottish government's £10bn China deal
The Scottish government has published an investment agreement with a Chinese consortium, potentially worth £10bn.
But it has caused a political row, after being signed on 21 March, but not officially announced by ministers at the time.
The move has sparked claims of secret deal-making, but SNP leader Nicola Sturgeon said it was a commitment to preliminary talks, rather than a done deal.
Andrew Black looks at the issues behind the agreement.