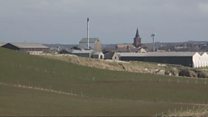 Video
Scottish election: What matters to voters in Orkney?
There are less than 10 days to go until voters elect the next batch of MSPs in the Holyrood election on Thursday 5 May.
But what do people want those they elect to the Scottish Parliament to tackle.
BBC Scotland's political editor Brian Taylor is on his "election travels" around Scotland.
The first stop is Kirkwall where Brian has been finding out what is on the minds of people in Orkney.