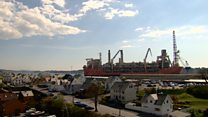 Video
Huge oil production ship set for Scotland
The biggest oil production ship in the world is about to set sail for the seas off Scotland.
Glen Lyon will anchor in the depths of the Atlantic, west of Shetland.
The facility is expected to produce 400m barrels of oil over the next two decades.
BBC News Scotland correspondent Kevin Keane reports from Norway where the finishing checks are being carried out before going offshore.