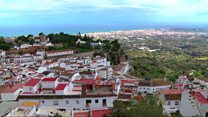 Video
What does the EU referendum mean for ex-pats in Spain?
Voters will go to the polls to have their say on whether to leave of remain part of the EU on 23 June.
Migration into the UK has been making headlines but what about those who have emigrated to other European countries.
Of the estimated two million British ex-pats living in the EU, about half of those are thought to be in Spain.
BBC Scotland's Ian Hamilton has been to find out how a vote for Brexit would affect them.
Go to next video: What it says on the tin: EU explained