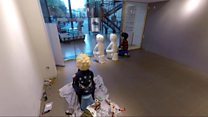 Video
Oor Wullie gets William Morris makeover
Oor Wullie has been given a makeover so he can represent the V&A Dundee in a Dundee cultural charity project.
Graphic designer Ellen Brown's design was inspired by the work of textile designer William Morris.
The finished statue will be part of the Oor Wullie Bucket Trail of 50 sculptures displayed throughout the city during the summer.
Footage: V&A Dundee