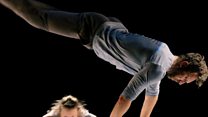 Video
Edinburgh Fringe chief on 'incredible' offering
The new chief executive of Edinburgh's Fringe has promised an unparalleled diversity of talent in this year's events programme.
Shona McCarthy also said there will be better access for both audiences and performers.
The programme for the world's biggest fringe festival comprises more than 50,000 performances and is forecast to generate over £142m for Scotland's economy.