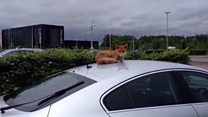 Video
Glasgow fox basks on a car roof
A fox has been filmed basking on a car roof in Glasgow, undeterred by passing motorists.
After noticing BBC Scotland reporter Duncan Kirkhope, it simply stretches out and makes itself even more comfortable.
The footage was taken on Thursday afternoon.
Could it be the same animal who was spotted in March?