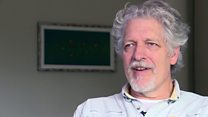 Video
Highlander's Kurgan on why the film is back on the big screen
Highlander is back on the big screen, 30 years after it was made on location in Scotland.
The film will be shown during the Edinburgh International Film Festival at the weekend and will play at screenings around the country during the summer.
What makes the film so popular?
Clancy Brown, who player The Kurgan, has been sharing his thoughts on the secret of its success and what he thinks of talk of a possible remake.