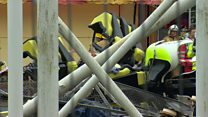 Video
M&D's rollercoaster had passed its annual safety check
The operators of the M and D's theme park say a roller coaster which derailed on Sunday had passed its annual safety check just weeks ago.
Ten people, most of them children, were injured when a carriage on the Tsunami ride detached from the rail and plunged about 20 feet.
Douglas Taylor, the theme park's director, said he had never seen an incident like it in 50 years and was heartbroken that people had been injured.
BBC Scotland's Aileen Clarke reports.
Go to next video: M&D's 'heartbroken' at injuries on rollercoaster