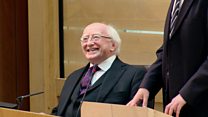 Video
MSP's Euro 2016 exit joke to Irish president
Irish president Michael D Higgins has been welcomed to the Scottish Parliament with a joke about his country's defeat to Euro 2016 hosts France.
Presiding officer Ken Macintosh greeted Mr Higgins by saying that several countries are coming to terms with an exit from Europe in recent days.
This is the first official visit by a serving Irish president to Holyrood.