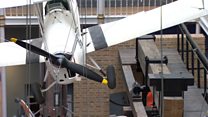 Video
National Museum of Scotland unveils 10 new galleries
The National Museum of Scotland has unveiled 10 new galleries marking the completion of the latest phase of a plan to transform the site.
Exhibits on art, design, fashion, science and technology will be showcased in the new space.
More than 3,000 objects are on display in the galleries, around three-quarters of which have not been exhibited in over a generation.