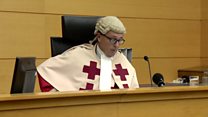 Video
Liam Fee judge on toddler's 'appalling suffering'
A mother and her partner have been jailed for life for the murder of two-year-old Liam Fee.
A judge at the High Court in Edinburgh sentenced his mother, Rachel, to a minimum of 23-and-a-half years in prison and her partner, Nyomi, to at least 24 years in jail before they are eligible to be considered for parole.
Lord Burns told them they had "grossly abused" their parental responsibilities to Liam: "He had been subjected to a prolonged course of violent behaviour which caused him appalling suffering, both physically and mentally, and ultimately caused his death at two-and-a-half."
Go to next video: 'No parent does that to a child'