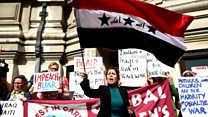 Video
Iraqis living in Scotland share their views on the Chilcot Report
Iraqis have seen their country plunged into turmoil through the battle to remove Saddam Hussein and then the aftermath of the invasion following his removal.
The Chilcot Inquiry concluded that the UK's decision to go to war had been taken before all other options had been fully evaluated.
The report also found that claims of weapons of mass destruction were based on "flawed evidence".
BBC Scotland's David Allison has been speaking to Iraqis living in Scotland to hear their thoughts on the findings.
Go to next video: 'Blair responsible for murdering my son'