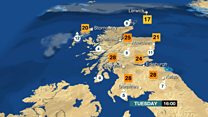 Video
Thunderstorm warning after Tuesday's hottest day
Weather forecasters are warning of possible midweek thunderstorms following soaring temperatures on Tuesday.
The Met Office has issued yellow be aware warnings for heavy rain, possibly turning thundery, from Tuesday at 17:00 through to Wednesday at 18:00.
Commuters are being asked to be aware of hail, flash flooding and strong winds which could also disrupt transport.
Go to next video: Sunshine and showers hit Scotland