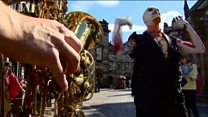 Video
Edinburgh's festivals worth £300m to Scottish economy
The popularity of Edinburgh's festivals was worth about £313m to the Scottish economy in 2015.
The Edinburgh Festivals 2015 Impact Study found that the host city benefitted by £280m.
Attendance at the 12 festivals last year topped 4.5m, matching the Fifa World Cup and second only to the Olympics.
BBC Scotland's arts correspondent Pauline McLean reports.