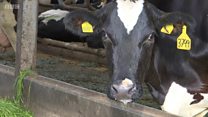 Video
Scottish farmers face up to the prospect of leaving the EU
In the last Common Agricultural Policy re-negotiation more than £4.5bn was earmarked for Scotland from 2014 to 2020.
With 500 million consumers, the European market accounts for 73% of the UK's agri-food exports, including 40% of Scottish lamb.
Willie Johnston speaks to Scottish farmers about the prospect of leaving the European Union.