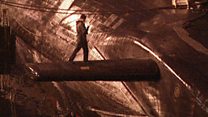 Video
Sentries ordered to shoot nuclear sub base intruders
Sentries were ordered to shoot intruders at the Faslane nuclear base on the Clyde after activists got on board a submarine in the 1980s.
Newly-released papers have revealed how Prime Minister Margaret Thatcher was "utterly horrified" by the breach in security.
BBC Scotland political correspondent Nick Eardley spoke to one of the three protesters who got into the control room of HMS Repulse.