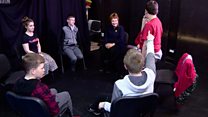 Video
Screen stars work with youth theatre helped by Comic Relief
As Comic Relief takes over our screens for another year, stars of River City and Still Game have been working with the Shine project - run by the Toonspeak Young People's Theatre group in Glasgow – who are funded thanks to the comedy telethon.
As well as drama, Shine also have an emphasis on life coaching.
The funds from people doing something funny for money are distributed around the world, with 167 projects in Scotland currently funded by Comic Relief.
Aileen Clarke went along to find out more.