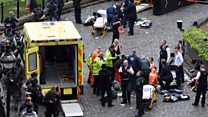 Video
Balancing security and civil liberties
The terrorist attack in London on Wednesday came just a few months after the UK government gained enhanced spying powers in the form of the Investigatory Powers Act.
Home Secretary Amber Rudd has now said that messaging services need to co-operate.
With pressure on to prevent future attacks, Sunday Politics Scotland reporter John McManus looked at where the balance now lies between security and civil liberties?