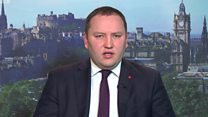 Video
Ian Murray says Labour now all on same page over indyref2
Labour's only MP in Scotland, Ian Murray, has said his party are "all now on the same page" on the issue of a second independence referendum.
He was speaking on the BBC's Sunday Politics Scotland programme ahead of a meeting in Cardiff later this week to discuss Labour's plans for a federal UK.
Mr Murray was asked about a tweet he posted earlier this month which said his leader, Jeremy Corbyn, was "destroying the Party, that so many need".
It came after Mr Corbyn had said another independence referendum would be "absolutely fine".
Mr Murray said Jeremy Corbyn had now "clarified his position".