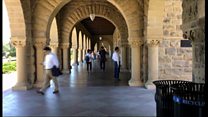 Video
US visits begin for Nicola Sturgeon
The First Minister Nicola Sturgeon is travelling to the United States, on a five day official visit.
She will give a speech on international issues affecting Scotland and will address the UN.
It comes as the Spanish Foreign Minister confirms his country would not block an attempt from an independent Scotland to join the EU after Brexit.
Graham Fraser reports.