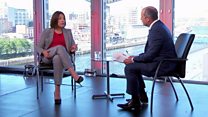 Video
Kezia Dugdale: 'Labour is united in its opposition to indyref2'
The leader of Scottish Labour says the UK party is united in its opposition to a second independence referendum despite.
Kezia Dugdale refuted claims that the UK leader Jeremy Corbyn would discuss holding such a vote following comments made to journalists earlier on Tuesday.
Ms Dugdale said: "You picked one 10-second quote there.
I'm pointing you to an entire record, a manifesto and a programme for government that says we're opposed to independence and a second independence referendum."
Ms Dugdale was taking questions from the audience during the second in a series of BBC Scotland televised interviews with the leaders of Scotland's main political parties.