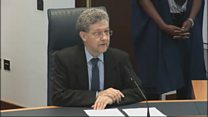 Video
Supreme Court finds in favour of HMRC in Rangers 'big tax case'
The Supreme Court has found in favour of HMRC in its fight with Rangers over its use of a controversial tax avoidance scheme between 2001 and 2010.
Over £47m was paid out to employees in tax-free loans but HMRC has always argued the payments were earnings and should be taxable.
The decision is not expected to have any material or financial impact on Rangers now as the club is owned by a different company.