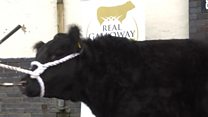 Video
Galloway cattle breed gets its own logo
One of Scotland's "oldest and purest" cattle breeds has been given its own logo.
The move is part of wider efforts to clear up confusion among customers over the term "Galloway beef".
It hopes to ensure that it refers to the Galloway cattle breed rather than simply animals reared in the area.