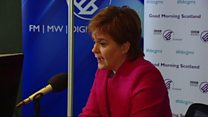 Video
Nicola Sturgeon: 'A no Brexit deal is unthinkable'
Scotland's First Minister Nicola Sturgeon said that a no deal on Brexit was "unthinkable.
She was speaking to BBC Scotland's Good Morning Scotland programme ahead of Prime Minister Theresa' May's Cabinet reshuffle in which it has been rumoured she will appoint a "no deal Brexit" minister.
Reacting to that move, Ms Sturgeon said: "I read that this morning and despair - it gives the impression that the UK government think this is some sort of game, that Theresa May is concerned more about appeasing the hardline Tory Brexiteers than she is about acting in the best interests of the country. No deal is unthinkable. Let me make it absolutely clear no Brexit is preferable to no deal."