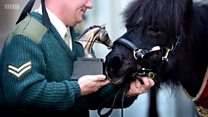 Video
A regiment's retired Shetland pony mascot has died at the age of 30
A regiment's retired Shetland pony mascot who met the Queen and served at Balmoral has died at the age of 30.
Cruachan III became the first mascot of the Royal Regiment of Scotland when it was formed in 2006.
The pony, who retired in 2012, was suffering from arthritis and vets made the decision to put him down at Edinburgh's Redford Barracks.
An act of remembrance for Cruachan III - who served on operational tours - will be held at Stirling Castle.