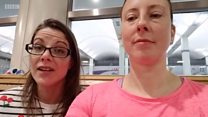 Video
'Stranded passenger: 'The airlines just walked away'
Friends Leanne McKillop and Yvonne Davies spent the night at Glasgow Airport following the severe winter weather.
They said they had nothing to eat and nothing to sleep on.
Leanne told BBC Breakfast News: "We have been stuck here since 10am yesterday morning.
"The airlines basically just walked away saying it was to do with the airport.
"The airport are saying it is to do with us.
"There are people sleeping on the floor, there were not enough blankets. There was bedding for about 100 people and there are about 500 people here."
She added: "Our flight is meant to be going at 12:30 today but we don't know - it is a case of wait and see."
A Red Met Office alert for snow was issued at 15:00 on Wednesday, 28 February and remained in place until 10:00 on Thursday, 1 March.