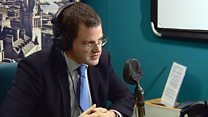 Video
Mark McDonald says some people will want nothing to do with him
MSP Mark McDonald who admitted behaving inappropriately to women says he accepts some people will want nothing to do with him when he returns to parliament.
The former SNP minister quit the party last week after accepting he had done wrong.
He has come under intense pressure to step down as MSP for Aberdeen Donside and allow a by-election to take place.
However, Mr McDonald believes that is not the right course of action for him to take.
Following months of absence from Holyrood he now intends to return.
Speaking to BBC Radio Scotland's Good Morning Scotland programme, Mr McDonald said: Some people will want nothing to do with me and I have to regretfully accept that. But there are some people who I think will want to offer me that opportunity to demonstrate that I have learned from this and that I am changing."