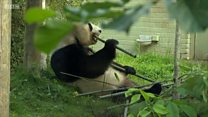 Video
Giant panda breeding programme at Edinburgh Zoo suspended
The giant panda breeding programme at Edinburgh Zoo has been suspended following years of failed attempts.
Tian Tian and Yang Guang will not attempt to breed this year, the BBC Scotland news website has been told.
Tian Tian has failed to produce a cub six times since moving to the Scottish zoo in 2011.
Zoo officials said they wanted to make "some enhancements to our giant panda enclosure" before attempting future breeding.