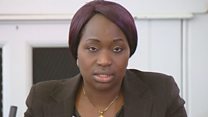 Video
Confidence in justice system is 'shattered' says sister of dead man
The sister of a man who died after being restrained by police three years ago said the family's confidence in the justice system had been "shattered".
Kadi Johnson was speaking at a press conference where Sheku Bayoh's family launched a civil action against Police Scotland for £1.85m.
She said: "We the family want an end to this, we want to grieve, our patience has been exhausted, our trust failed.
"We have had enough and our confidence shattered. Our hope is for [a} fairer Scotland and justice for all, by the young, old, black and white."