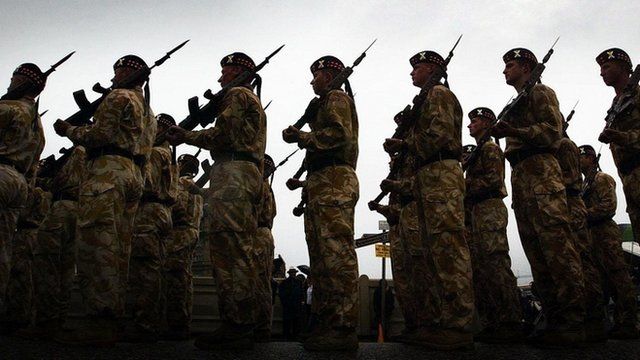 Video
Labour's Jim Murphy in 'no promise' on troop numbers
Shadow Defence Secretary Jim Murphy has refused to say how many troops would be based in Scotland if Labour were to win power at Westminster.
He was speaking to BBC Radio Scotland's Good Morning Scotland programme following the UK government's announcement of where troops withdrawing from Germany would be re-housed in the UK.
The number of Army personnel based in Scotland is to increase by more than 600 - but that is less than had been promised.
When asked by presenter Gary Robertson what Scottish troop numbers would be like under a Labour government, Mr Murphy said: "We will have a strategic defence review that will take into account things like the consequences of the Arab Spring, the fact that President Obama is increasingly known as the first Pacific president who is no longer looking at Europe as his priority and therefore European countries in Nato are going to have to do more."
After being pressed further, the Scots MP added: "I can't write my manifesto this morning on the radio.
"The government had a rushed defence review and we aren't going to make that mistake - we will be clear in the build up to the general election."