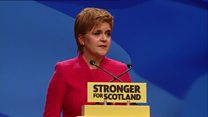 Video
SNP's Nicola Sturgeon: 'PM has time to think again on vote date'
Scotland's First Minister and SNP leader Nicola Sturgeon says Theresa May could re-think her approach to the timing of a second Scottish independence referendum.
She made the remark during her speech to her party's conference meeting in Aberdeen.
Ms Sturgeon told more than 2,000 delegates: "She has time to think again and I hope she does. If her concern is timing then - within reason - I am happy to have that discussion.
"But let the prime minister be in no doubt. The will of our parliament must and will prevail."