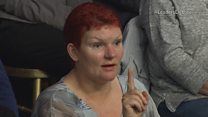 Video
Election 2017: Nurse tells Sturgeon 'you're not listening'
NHS nurse Claire Austin has told SNP leader Nicola Sturgeon that she is not listening over health service pay.
Appearing in the audience of BBC One Scotland's leaders' debate, Ms Austin asked Ms Sturgeon how many years nurses had faced low wage increases.
Scotland's first minister said she accepted there were "too many" years in which there had not been a proper pay rise.
She explained that Scotland had had a really difficult period regarding public spending. But Ms Sturgeon added that there had been a guarantee north of the border on no compulsory redundancies.