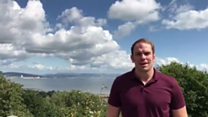 Video
Wales rugby legends back Swansea tidal lagoon plans
A new campaign has been launched encouraging people to get behind plans for the Swansea Bay Tidal Lagoon.
Love the Lagoon aims to help secure what would be the world's first tidal lagoon power plant.
It claims the £1.3bn development would create and support about 2,220 jobs and contribute £316m to the Welsh economy during construction - followed by £76m during each of its 120-years of operation.
Wales rugby legends Shane Williams and Alun Wyn Jones are among those to have pledged their support.
Footage courtesy of Swansea council.