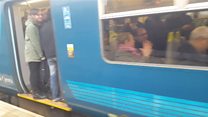 Video
Arriva rail commuters 'packed in like cattle'
Arriva Trains Wales has said it is committed to improving its services as figures show a "huge rise" in passenger numbers.
The rail operator reported a quarter of a million extra commuters in south Wales since 2013, but it has come at the price of overcrowding.
Joe Hoppe commuted via Cardiff Central to university and described the service as "absolutely dreadful".
He filmed one journey and said passengers were "packed in like cattle".
He added that he never had a seat and, in a matter of months, he was turned away five times.