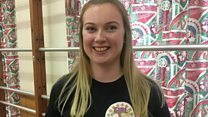 Video
Jasmine King: Volunteer's pride at girls' activity scheme
Jasmine King has been a volunteer with the Girls Network scheme in Bridgend, south Wales, since she was 14.
Now 19, she has helped groups of other teenagers to get fit, building their self-esteem, confidence and aspirations.
Girls Network groups operate at all comprehensives in Bridgend county and are now expanding into primaries.
Jasmine first got involved with the project at Cynffig Comprehensive in her home town of Kenfig Hill.
She describes one of the first activities she helped instigate.